SCACUNINCORPORATED Records is the American home for the past and future recordings of Slim Cessna's Auto Club, Munly & the Lupercalians, and DBUK.
Visit SCACUNINCORPORATED WEB STORE to browse our currently available Music and Merch.
Our newest release is Slim Cessna + Lord Dwight Pentacost 'Didn't We Ramble,' a four song digital EP (new versions of traditional ballads) available for download on the SCACUNINCORPORATED Bandcamp store.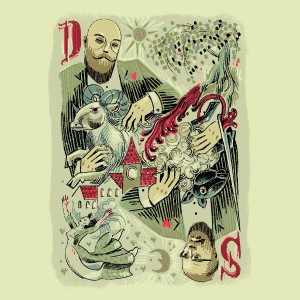 SCACUNINCWORDS, our book publishing branch, has a new offering in the form of a chapbook, 'Chants, Calls & Hollers' … 'Chants, Calls & Hollers' features lyrics for all three records (one each from SCAC and DBUK still forthcoming) and illustrations by Heather Reynolds. 'Chants, Calls & Hollers' is limited to 320 copies and signed by author Munly J Munly.
Also available are Munly's two books about the kinnery of Lupercalia… 'Confessions To Scare… and Döder Made Me Do It.
Our newest vinyl release is 'Kinnery Of Lupercalia; Undelivered Legion' from Munly & The Lupercalians. 'Undelivered Legion' is the first in a series of three 'Kinnery Of Lupercalia' records to be released by SCACUNINCORPORATED record label; one each by Munly & The Lupercalians, Slim Cessna's Auto Club, and DBUK. 'Undelivered Legion' is available on oxblood-colored vinyl LP, with gold foil stamped jacket and digital download card, from our web store and other fine record retailers…
* * * * * * * * * *
SCACUNINCORPORATED record label has joined forces with our friends at Devil's Jump Press to form our very own publishing house: SCACUNINCWORDS. "We're here to press and print and stamp and carve the voices from the mind of Munly J Munly and to deliver those voices to the good people."